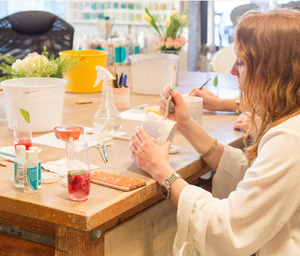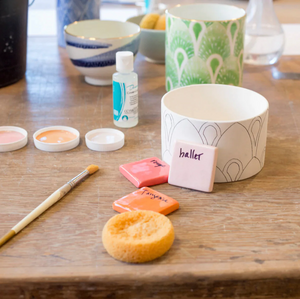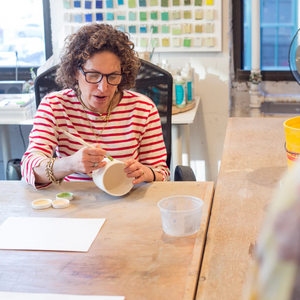 ⚓️ NANTUCKET ⚓️ Workshop: Make a Le Bird Sake Tray
Tuesday — JULY 25, 2023
Nantucket, Massachusetts
Hosted @ the home of Anne Rubin
2pm-5pm

14 people max
This is our first workshop on the road! Join us on the airy and beautiful island of Nantucket at the lovely home of Anne Rubin. With a fun creative project in front of you, you'll have a chance to unwind in this picturesque and relaxing beach-side setting. 
Enjoy a summer afternoon of color, pattern, and inspiration! Channel your inner potterista. No experience necessary. We have all the tools and mojo you need to create a masterpiece; a fun sake tray. The perfect catch-all piece for nestling cheeses at your cocktail hour or holding trinkets in your bedroom. 
Each guest will be provided a base—the Sake Tray (approx. 8" x 6") in white earthenware. Jill will then give a lively hands-on demo, chat patterns, color palettes and her process. Enjoy snacks and wine! Then let the drawing and painting begin. You'll explore the allure of pattern and custom color palettes in a dreamy workspace; use the colors of your choice paired with our Bedford Bramble pattern. After being adorned with REAL 18k gold and kiln fired, the tray will be yours.
When the day ends, we will fire your tray in our kilm and contact you when your finished tray is ready to ship.
Jill was voted 2018 Best Ceramicist and also dubbed "The Connector" by Boston Magazine. We look forward to meeting you and hosting a colorful and fun workshop for everyone to create little a memento of happy!
Please call or email the studio with any questions! 
info@jillrosenwald.com
(617) 422 0787

Pottery Details
Care
Go ahead, pop it in the gentle cycle of your dishwasher. But remember, no microwave! 
Process
All our pottery is made to order—handcrafted on a potter's wheel then drawn and painted by our skilled artisans. We use a creamy white earthenware that provides a smooth white canvas for our colorful patterns. Each piece is finished with a coat of glossy clear glaze. The final touch is a 14k gold painted rim.
Customize
Design Your Own
Because everything at our studio is made-to-order, we can mix and match. Design your own pottery. Pick a shape, pick your pattern, pick your color. Start here ›
Add a Note
We can write a name, note, or a date on the bottom of your pottery. Anything you want! A great idea for gifts. Just share the details with us at checkout via the "notes" box.
Monograms
We've done 'em. We love 'em. Get in touch for details.
Order Info
Shipping & Delivery
Our products are made-to-order. The process from point of sale to shipment is estimated at 3-4 weeks. This may seem like years in e-commerce world, but we're perfectionists and promise it will be worth the wait. Your box will arrive at your doorstep with love and care from UPS. Tracking information will be emailed to you at time of shipment. Please contact us for international shipping options.
Cancellations & Returns
If your order hasn't started production, we may be able to accept a cancellation. Please get in touch. No returns. Unless the piece is broken when you receive it, you own it!
Is this a gift?
We'll skip the invoice, tie this present up with special ribbon, and include a nice message. Just share the details with us at checkout via the "notes" box.